versione 8.5.2 ・ 20 set 2022 Novità?




Requistiti: macOS 10.11-13.x

Periodo di valutazione gratuito: 30 giorni

Localizzato: Inglese, Francese, Tedesco, Olandese, Ceco, Italiano, Greco, Spagnolo, Russo, Polacco, Portoghese, Cinese, Giapponese
Scaricare una versione precedente per Mac OS X 10.4-10.10
Licenza singolo utente -
38,99 USD

Licenza famigliare -
69,99 USD
"I've tried other programs, but this one is definitely the speediest."


ilene hoffman - MacNN

"If you archive a lot of info on discs, you'll love the cataloging feature."

"You can locate content more easily once you've offloaded it and put the disc away."


peter cohen - Macworld

"DiskCatalogMaker X is really easy to use, can scan all kinds of media storage devices and even archive contents, and its Find feature is excellent."

Semplice da usare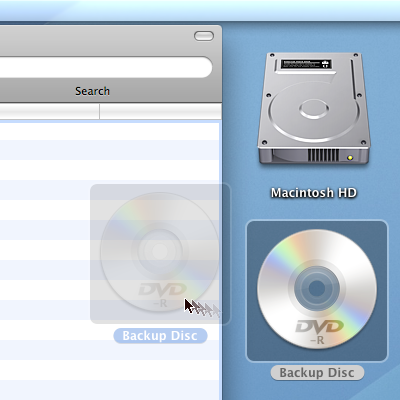 Catalogazione dei propri dischi
Drag and drop dell'icona del disco sulla finestra di catalogo.
Aggiunta automatica da un disco masterizzato con Roxio Toast Titanium. more
Modalità analisi a lotti per analizzare dischi multipli.
Opzione per generare immagini di anteprima.
E per favore confronta il veloce motore di catalogazione rispetto agli altri catalogatori!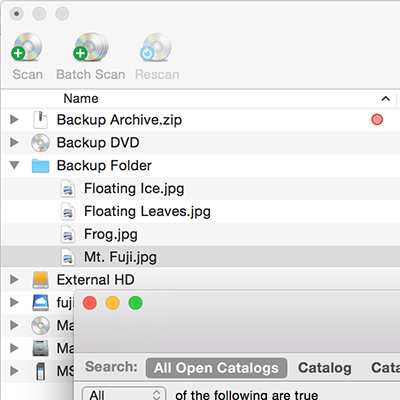 Vedere i propri cataloghi
Aspetto intuitivo come il Finder.
Possibilità di stampare il catalogo.
Opzione "Seleziona originale" per rivelare l'elemento nel Finder.
Opzione "Apri originale" per aprire l'elemento direttamente.
Opzione "Visualizzazione rapida" per una anteprima dell'elemento senza effettivamente aprirlo.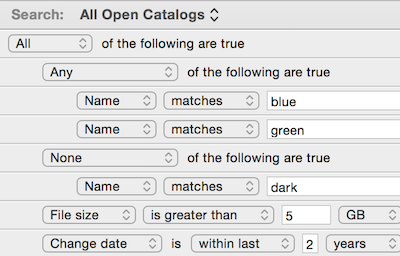 Cercare nei propri cataloghi
Ricerca per nome e altri attributi del file.
Ricerca usando un semplice linguaggio di interrogazione.
Ricerca con supporto per Spotlight.
Altre caratteristiche
macOS Mojave Dark Mode support.
Algoritmo di ricerca super veloce.
Apertura di più cataloghi contemporaneamente.
Motore di catalogazione ottimizzato per sistemi multi-core/multiprocessore.
Formato del database del catalogo certificato per scalabilità e memorizzazione di grosse quantità di dati.
Compressione dati calogo per risparmio spazio su disco.
Supporto per archivi con formato Zip, StuffIt, RAR, 7-Zip, tar, gzip, bzip2, CompactPro, LHA. *
Supporto per formato CD-TEXT.
Importing catalog data from other cataloger programs. *
Supporto per catalogazione su un volume di rete.
Accesso a file catalogo condiviso via AppleShare file server / AFP. *
Supporto per nomi unicode lunghi e lingue Asiatiche.
Localizzato in 13 lingue.
The Italian version was translated by Narvill.